xTool D1 Pro Build and First Impressions
FULL DISCLOSURE – I was contacted by xTool and provided this xTool D1 Pro Kit to review. This is just an initial impression following my build out, with a further, more in-depth review to follow soon.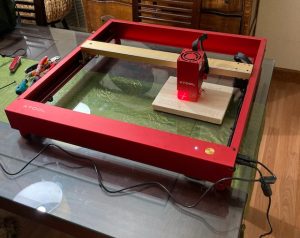 My laser is the 20 watt version with the RA2 Rotary. It has an impressive working area size of 430 x 390 mm (16.93 x 15.35 inches). The published Z height is 50 mm (2 inches). I suppose they had to put some number there but the reality is you can laser an item of just about any height if you raise the laser with the included riser legs or 3D print legs or stack soup cans under the legs. The Z height can be just about anything.
Intro
As usual I won't spend time with videos showing the unboxing or reposting things you can find on their product information page. If you are looking at this blog and have an interest in getting an xTool D1 Pro you've already looked at their page and me re-hashing a picture of the box and listing the specifications (other than the ones I listed just above) is simply redundant and a waste of your time. Here on my blog I get something, use it, sometimes in ways it wasn't meant to be used, and then tell you what I think.