Ortur Laser Master 3 LE Quality Issues
I recently purchased an Ortur Laser Master 3 LE . It worked fine for about a month and then began clicking when homing in the X axis. After initiating a support ticket it turns out the problem was simply poor Quality Control. I also had Quality Control issues with my Ortur Laser Master 3 that I purchased as well.
One of the claims to fame of the Laser Master 3 LE is that the X rail is preassembled. This simplifies, and speeds up assembly time. And herein lies the problem. It was preassembled POORLY.
Here was the problem:
Investigation Begins
The first thing I did was to test the X belt tension. It seemed okay initially.
Then I inspected the grub gear on the X motor shaft. I got an allen wrench and checked the tightness of the set screws. The set screw over the flat part of the motor shaft was simply free spinning. It wasn't threaded or engaged at all. Sad. And poor quality control by Ortur yet again.
However, this wasn't the issue. The other set screw was holding the grub gear firmly.
At this point though I knew I'd be wanting a new grub gear from Ortur. So I opened a support ticket. At this point any reader of my blog should know I'm not a fan of Ortur. I've had issues with the Laser Master 3 and now the Laser Master 3 LE. I was a huge fan of the Laser Master 2 and oddly enough I think the Ortur Aufero Laser 2 is a smashing hit and should be on the short buyers list for new laser users. It is simply amazing. If it is good, I will say it is good. If it is crap, I'll say that too.
Despite the fact I think Ortur is not doing well that DOES NOT extend to their support Department. Their Facebook Forum is monitored by "Gil" and Gil responded within minutes of me submitting my support ticket. He was extremely helpful and agreed to send me the parts I asked for after we worked through the issue.
The Culprit Is Found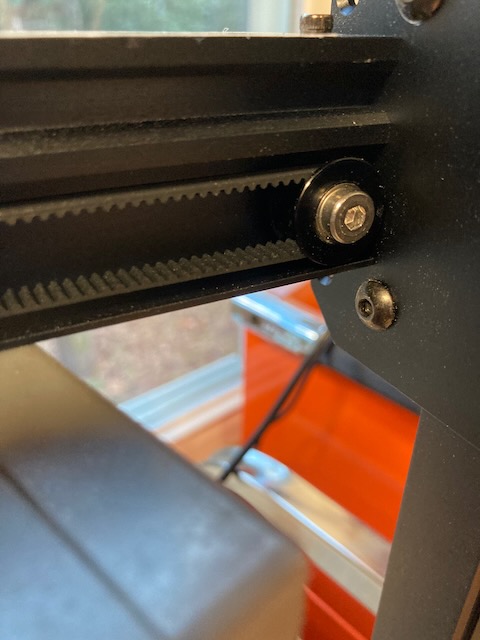 After looking at the X rail construction I went to tighten the block screw. At this point I didn't realize it was NOT the tensioning screw. It was loose and when I tightened it the block began to level out. It was sitting at a slight angle. Tightening that screw increased tension on the belt which seemed to fix my homing issue. Until the next day when the homing operation failed again.
Here we go again.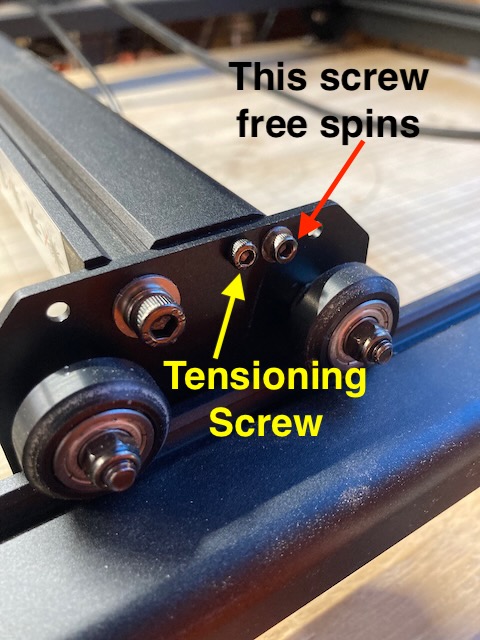 Gil told me to loosen the X rail block screw then loosen and tighten the tensioning screw. You have to remove a cover to access this adjusting screw. Then I re-tightened the x rail block screw. However, the screw next to it free spins.
That loose screw holds the roller assembly to the x rail.
I removed that screw which wasn't engaged at all. It was a 3mm x 6mm fastener. I replaced it with a 3mm x 8mm long screw and it tightens correctly now.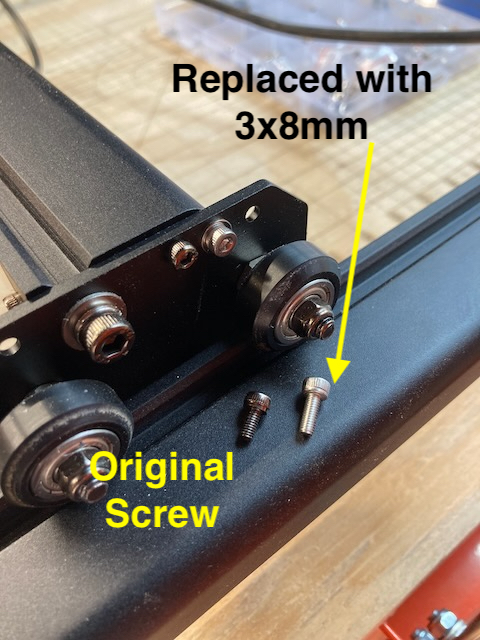 MY X RAIL WAS NOT PROPERLY ASSEMBLED BEFORE BEING PACKED AND SHIPPED TO ME. THIS COUPLED WITH THE GRUB GEAR SET SCREW BEING STRIPPED MEANS THE QUALITY CONTROL AT ORTUR IS UNSATISFACTORY.
Did I Fix It?
I think so. I think the rail / roller assembly junction being unsecured may have been the driving force in this issue. Let's review what was wrong on the pre-assembled X Rail though:
Grub Gear Set Screw stripped and free spinning
X Block Screw loose
Roller to Frame screw not correct length and not securing that corner of the axis.
That's a whole lot of shit wrong on one component.
Ortur agreed to send me the following components for a more permanent fix:
QC OLM3L3 X Sprocket
OLM3L3 X belt tensioner
Recommendations
I simply cannot recommend to anyone to purchase an Ortur laser. While they were once the only real game in town they have been surpassed by literally every other laser manufacturer. While 40 watt lasers are becoming commonplace, Ortur can't even get a 20 watt laser out the door.
I have had quality issues with my Laser Master 3 and now all of these issues I just recorded on my new Laser Master 3 LE machine have soured my opinion of their flagship lasers.
The only positive aspect of this was that Ortur Support was EXCEPTIONAL. My issue is not with Support but with the Ortur's Quality Control which seems to be non-existent.